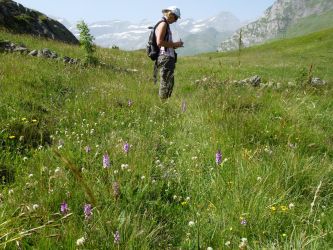 To conserve butterflies effectively we need to have good information on species distributions and trends in abundance. However outside parts of western and northwestern Europe such data is sparse.
Sam Ellis, Chair Butterfly Conservation Europe, has written a comprehensive review on how to make the most of your butterfly recording and monitoring data in Europe:
European Butterfly Recording and Monitoring (PDF)
Approximately half of European countries have butterfly recording schemes. EBG has developed links with ten such schemes. Downloadable spreadsheets with country-specific species lists and a named EBG contact to whom you can submit your data are available for:
Bulgaria, Cyprus, France, Germany, Greece, Hungary, Italy, Portugal, Spain and Sweden.
Where these exist, we encourage everyone to use EBG country-specific spreadsheets to submit their European butterfly records.
UPDATED CHECKLIST OF EUROPEAN BUTTERFLY SPECIES
Download : EuropeanButterflies.xls (89kb)
The list of 454 species on the first spreadsheet comprises species found in Europe up to the eastern boundary of the European Union. It includes Cyprus, the Canary Islands, Madeira, and the Azores. A further 42 species which only occur east of the European Union (in Russia, etc) are listed separately on the second spreadsheet.
The list follows the updated checklist of European Butterflies which was published on 31 December 2018 in the journal ZooKeys and can be accessed as follows:
The updated checklist was compiled by an international committee of taxonomic experts which comprised Martin Wiemers (corresponding author), Emilio Balletto, Vlad Dinca, Zdenek Fric, Gerardo Lamas, Vladimir Lukhtanov, Miguel Munguira, Chris van Swaay, Roger Vila, Albert Vliegenthart, Niklas Wahlberg, and Rudi Verovnik.
It is the same piece of work as the checklist published in the EIG Anniversary Magazine in May 2017 (which was an advanced draft of the committee's conclusions) but with a few updates and corrections, the main ones being as follows.
Main changes
Polyommatus timfristos
is added as a new species. This is an Anomalous Blue from the Timfristos and Parnassos mountains in central Greece.
Polyommatus eleniae
(Phalakron Anomalous Blue) is now considered conspecific with
Polyommatus orphicus
(Kolev's Anomalous Blue).
The split of
Euphydryas beckeri
(Iberian Marsh Fritillary) from
Euphydryas aurinia
(Marsh Fritillary) is dropped.
Hypolimnas missipus
(Danaid Eggfly) is added to the list. This tropical species has been recorded and is possibly breeding in the Canary Islands, and has been recorded in Madeira.
Pieris wollastoni
(Madeiran Large White) is now classified as extinct.
The scientific name of the recently split Southern Heath Fritillary is corrected from
Melitaea nevadensis
to
Melitaea celadussa
.
Argynnis aglaja
(Dark Green Fritillary) is now
Speyeria aglaja
.
Argynnis niobe
(Niobe Fritillary),
Argynnis elisa
(Corsican Fritillary) and
Argynnis adippe
(High Brown Fritillary) become
Fabriciana niobe
,
Fabriciana elisa
and
Fabriciana adippe
.
Nevada Grayling becomes
Pseudochazara williamsi
.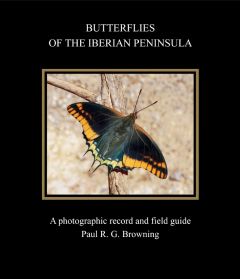 Paul Browning's book 'Butterflies of the Iberian Peninsula' was first published in 2011. It filled a particular gap in the market and proved to be a very useful guide. The limited print run sold out quickly and now the book is out of print.
The revised edition available here contains a lot of information which was not included in the original version. The text is comprehensive, accurate and contains a wealth of information on the butterflies of Spain and Portugal.
Paul would like EBG members to have access to this information and has very kindly let us provide this revised version of the 'Butterflies of the Iberian Peninsula' as a free resource on the European Butterflies Group website.
Please note the PDF file size of the book is 107mb and will take a while to download on slow broadband.
Download : Butterflies of the Iberian Peninsula by Paul R. G. Browning